Enviva Inc– We ranked this stock +1 in June based on insider buying around $58-60 per share (see analyst note below). There was a large cluster of insider buying in mid-October when the stock dropped to the low $50's after short-seller Blue Orca published a negative report on the company. The recent activity is below, and the analyst write-up at time of rank is included as well.
Insider activity in Enviva (EVA +1) since June 2022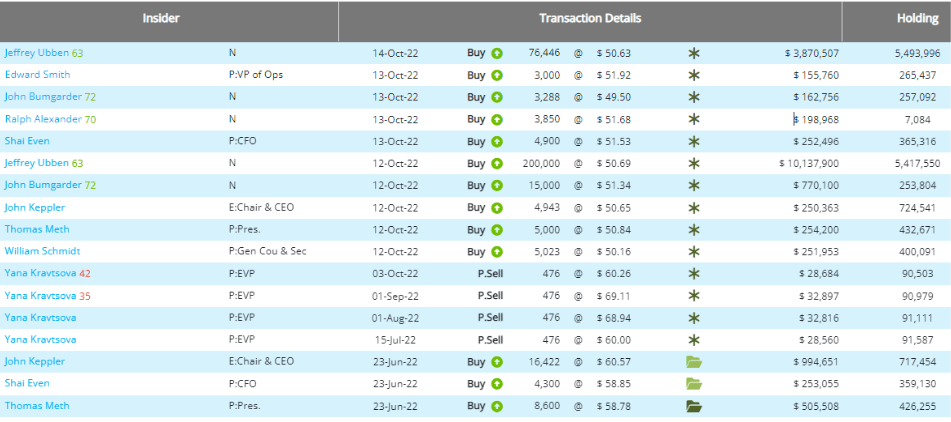 (Analyst note when we upgraded the stock on June 27, 2022)
Enviva Inc – (EVA, +1, June 27th)
Thomas Meth (President, joined 2015) purchased 8,600 shares on June 23rd at $58.78, spending $505,000 and increasing his holdings to 426,255 shares. Despite a seven-year tenure at the company, this is his first reported open-market purchase. We ranked this stock +N on June 24th based on purchases of $995,000 from John Keppler (Co-founder, Chair, and CEO since 2004) and $253,000 from Shai Even (CFO since 2019), both also making their first purchases in the stock. On June 21st the company provided a business update that reaffirmed 2022 guidance as well as preliminary expectations for 2Q 2022. This cluster of buying after that announcement shows conviction.
We are upgrading the stock further, from +N to +1.
If you want to have Stock of the Week with insider buying stocks information and analysis in your email, don't forget to subscribe!
Follow us on LinkedIn and Twitter
Check our Signals Performance and if you want to know more about this Signals Service, please, email us at sales_admin@smartinsider.com or fill in the Contact Us form here.